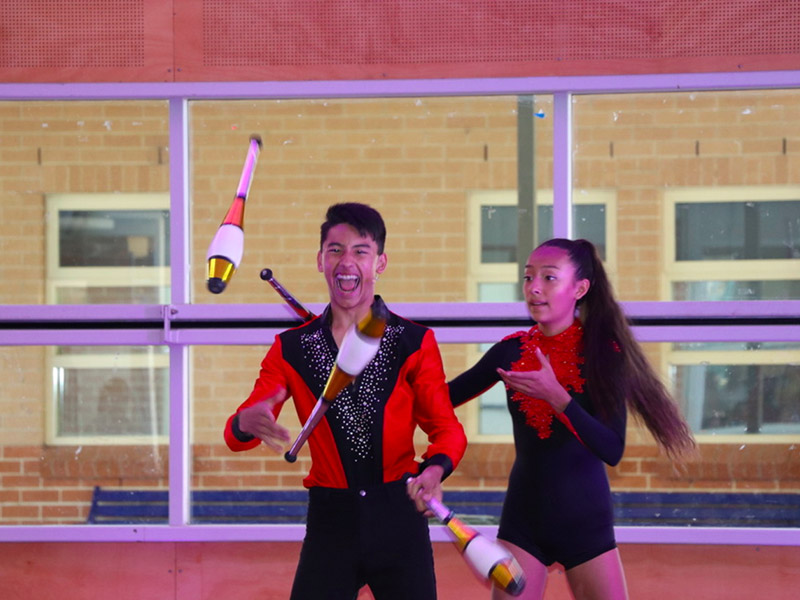 The Australian Youth Performing Arts Company (AYPAC) has toured 10 Catholic Education Diocese of Parramatta schools with an all-singing all-dancing spectacular. Students and teachers were delighted by the show that also featured juggling and acrobatics.
CAPTIVATE, the Creative and Performing Arts unit of Catholic Education Diocese of Parramatta, organised the school tour to Holy Family Primary Emerton, St Aidan's Primary Rooty Hill, Holy Trinity Primary Granville, St Patrick's Primary Guildford, St Canice's Primary Katoomba, Our Lady of the Nativity Primary Lawson, St Monica's Primary Richmond, St Luke's Catholic College Marsden Park, Christ the King Primary North Rocks and St Bernadette's Primary Dundas Valley.
AYPAC provides talented young performers professional, paid performance opportunities to promote the importance of performing arts and creativity in children's development.
CAPTIVATE Leading Teacher Francoise Marrier d'Unienville said the opportunity to have AYPAC perform at a selection of our schools came about after AYPAC coordinator Ben Miesch was inspired by the CAPTIVATE Arts Factor Eisteddfod in Term 2.
"These wonderful AYPAC concerts are to continue to inspire students to get involved in the arts, everyone is creative,'' Mrs Marrier D'Unienville said. "Feedback has been positive from all our schools. Many have said their students would never have the opportunity to see a live performance like this one before."
St Monica's Primary Richmond Assistant Principal Jacqui Van Der Burg said the show was amazing and the young performers were very talented. "It was also good having creative arts highlighted as being important as maths, science and literacy.'' Mrs Van Der Burg said.
The show featured young people from around the country who performed songs from Matilda, The Greatest Showman and Wicked, along with audience participation which saw St Monica's teacher Mrs Duvale get dressed up as a hip hop singer. She had to show off her best hip hop moves to the whole school too!
CAPTIVATE was proud to offer this amazing live performance in addition to the many programs staff deliver in Catholic Education Diocese of Parramatta schools to give students access to the arts, deepen their learning and give them a continued path in arts learning throughout their school journey and beyond.
Click here to view photos of the event
---
CAPTIVATE is the creative and performing arts program for Catholic schools in the Diocese of Parramatta.

Learn more about CAPTIVATE
---