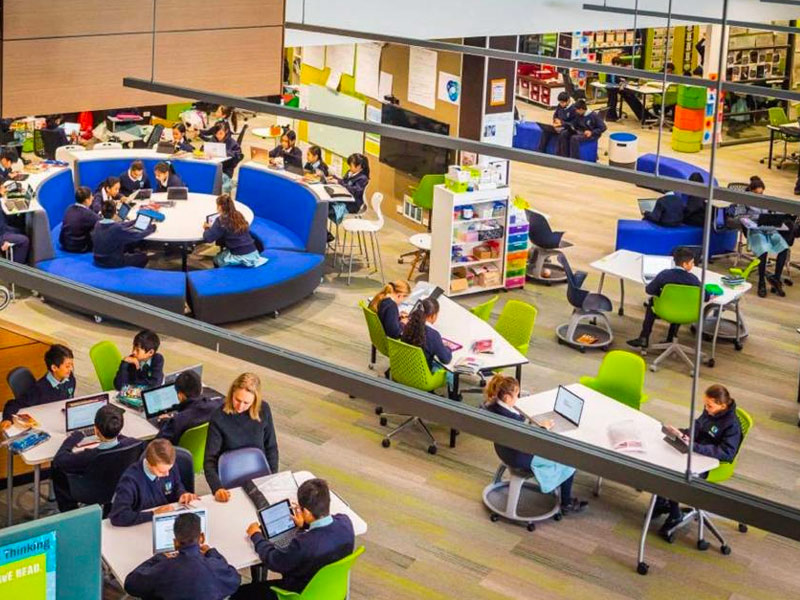 INNOVATIVE DESIGN: Open, modern learning spaces give students the choice of what suits them best.
Committed staff work with dedicated parents to nurture curious children
St Luke's at Marsden Park has seen "phenomenal growth" since opening in 2017 with 86 students.
Described as a "next generation learning community" the school now has 950 students from kindergarten to Year 9 as well as 50 children aged 3-5 who attend long day care on the same campus.
"St Luke's at Marsden Park is a next generation learning community within the Catholic Education Diocese of Parramatta," a spokesman said.
"As a Catholic Learning Community they are designing and establishing the 'new normal' for preschool to post school learning.
"This sees committed staff work with dedicated parents to nurture curious children who, in turn, become creative contributors and innovative problem solvers for a changing world."
While St Luke's maintains a strong and rigorous approach to developing literacy and numeracy for each student within a safe environment with clear expectations for respectful behaviours, there are a number of next generation approaches which sets it apart from most school settings.
These include: a strong focus on developing the capabilities required for a changing world; and flexible learning spaces which provide a choice of furniture so students can learn in comfort.
There is also the use of virtual reality to complement learning and teachers using artificial intelligence to accelerate feedback processes for students.
A Life Design Program sees students work with professional life coaches to better understand their SIM - Strengths, Interests and Motivations - so they can better articulate their life purpose.
"The future looks bright for St Luke's," the spokesman said. "The building program is due for completion within the next three years. This will see the addition of a High Needs Learning Support Centre, spaces with modern technologies, performing arts and music centre, hospitality precinct and cafe, gymnasium, art gallery, and adventure playgrounds.
"With experiential learning and engaging partnerships with local industry and community networks, the future is bright for each St Luke's student.
"The end goal for each young adult as they graduate from St Luke's is to have an online folio of evidence which showcases the very best of who they are, what they can do and what problems they want to solve."