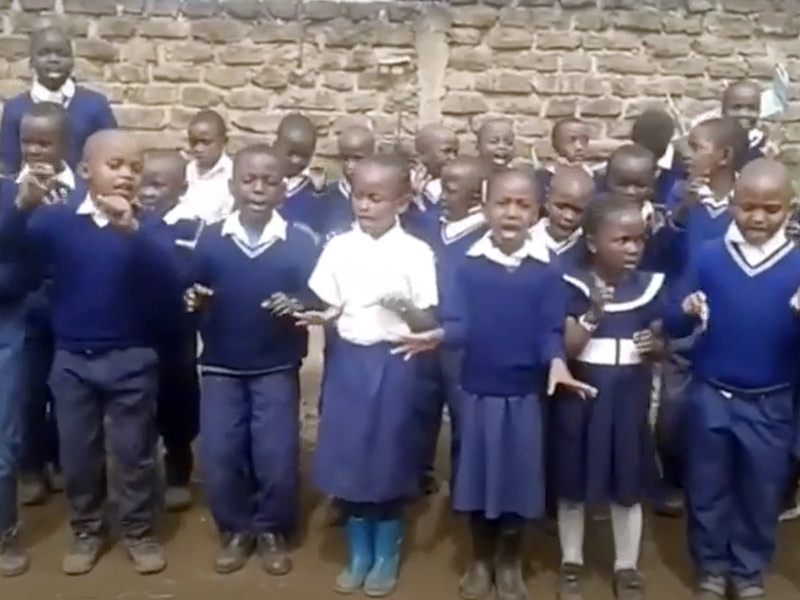 Music coordinator in the Diocese of Parramatta, Phil Rooke, is providing music outreach to a community-based school in Kenya with the help of Catholic school students in western Sydney.
Phil, who teaches music at Santa Sophia Catholic College in Box Hill, St Luke's Catholic College in Marsden Park and Chisholm Catholic Primary School in Bligh Park, made a connection with Pastor Alfred Kitui who runs a small parish school in Nairobi.
"Brightshiners Junior School is a community-based school that provides education and care to children from the age of one and a half years right through the journey of primary education," Phil said.
"It's in a very poor neighbourhood of Nairobi and the school often supports students and families that are unable to pay for their education.
"The school was in desperate need of music resources but doesn't have access to the internet," he said.
With the help of free WiFi hotspots in local shops and cafes, and the use of teachers' smartphones, Phil was able to share teaching videos from his studio in the Blue Mountains in New South Wales.
"The school does have a small TV that has been donated, so the teachers are able to download my teaching videos using their phones and play the lesson in the classroom," Phil said.
Through the video lessons, the Kenyan students are learning 'The Lion Sleeps Tonight' with the accompaniment of the newly formed String Ensembles at St Luke's, Santa Sophia and Chisholm Primary, singers and choirs at Chisholm Primary and Santa Sophia, and a drum group organised by another St Luke's music teacher, Chris Komorowski.
The final product will be an edited video of the cross-country performance.
Phil said the community is in need of much more than music support.
"The children in Kenya are fortunate if they get one meal a day and Pastor Alfred has planted a vegetable garden so they can at least have one meal a day."
"A group of Singaporean students have also recently set up a crowd funding page to support a building project for Brightshiners Junior School," he said.
Make a donation to support Brightshiners.
---
Learn more about St Luke's Catholic College Marsden Park
Learn more about Santa Sophia Catholic College Box Hill
Learn more about Chisholm Catholic Primary Bligh Park