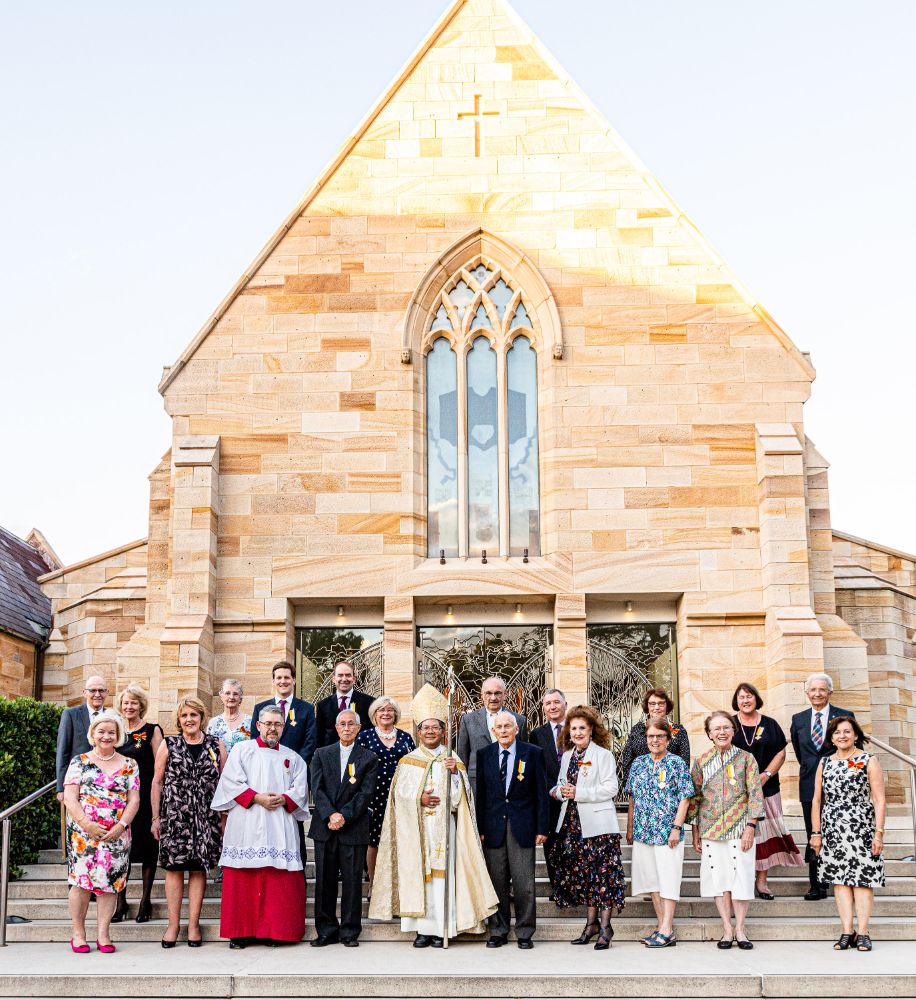 21 members of the Diocese of Parramatta, including a significant number of CEDP staff, have been recognised by Pope Francis for their outstanding service to the Catholic Church as leaders and educators.
The Pontifical Honours were presented by Bishop of Parramatta, Vincent Long Van Nguyen OFM Conv, at a ceremony held at St Patrick's Cathedral in Parramatta on 7 December.
"It is appropriate that the Christian community affirms those, who through their contribution, inspire others," Bishop Vincent said. "We thank them sincerely for their discipleship and dedication to building up the body of Christ which is the Church, and especially in this part of the world."
Members of the CEDP Mission team and CAPTIVATE creative arts program, school principals and several former senior CEDP staff were among the award recipients.
Executive Director Greg Whitby has congratulated those who were honoured and said he felt blessed to work with such passionate people. "These honours are a significant recognition of service at any time," Greg said. "But particularly this year as we celebrate 200 years of Catholic education in Australia, which began right here in Parramatta."
Much-loved Mission team members Sr Venera Nicolosi OSU and Sr Patty Andrew OSU were honoured for their longtime service to the Church, the wider community and education.
"I'm particularly delighted to see Sr Venera receive this recognition now as she will retire at the end of the year," Greg Whitby said. "She has dedicated several decades to working with young people and teachers to ensure they have the best possible Catholic schooling available."
CAPTIVATE Artistic Director David Russell, who also coordinated the liturgical music of WYD 2008, and Foundation Director Mark Hopkins were honoured for their exceptional work in art, music and performance, as was Karen King, Leader of Learning Creative Arts at Caroline Chisholm College who has implemented the program across a number of schools.
Patricia Carr, Principal of Good Shepherd Primary Plumpton and Kevin Mills, Principal of St Margaret Mary's Primary Merrylands were awarded for their outstanding educational leadership.
Also recognised was 83-year-old Joseph Culican who has worked in maintenance at St Margaret Mary's Primary Merrylands for 27 years and St Luke's Catholic College Marsden Park Business Manager Anne Clark.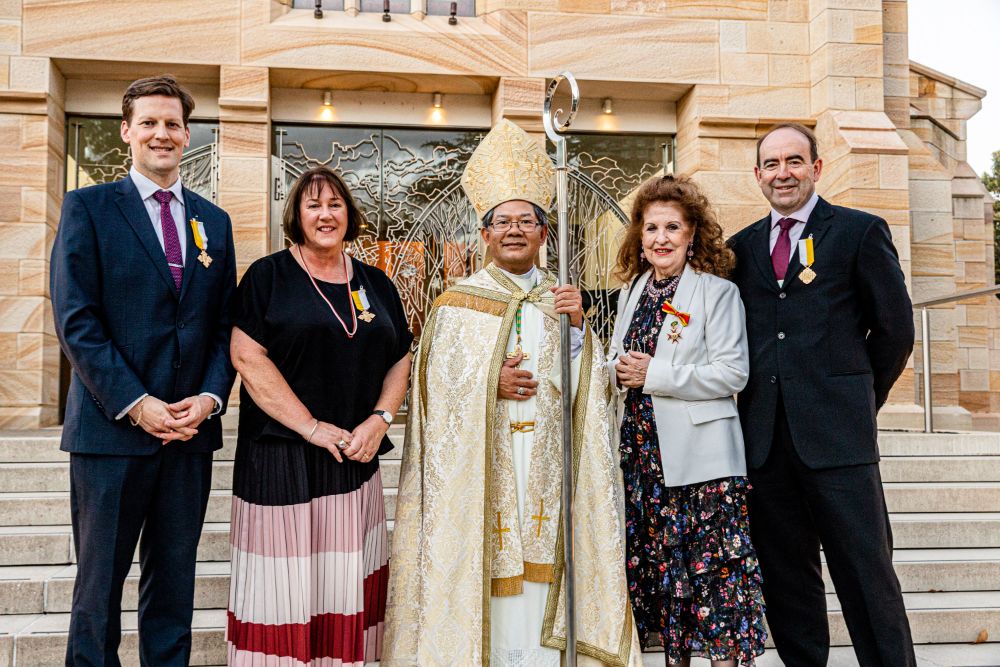 From left: David Russell, Karen King, Bishop Vincent, Valda Silvy OAM, Mark Hopkins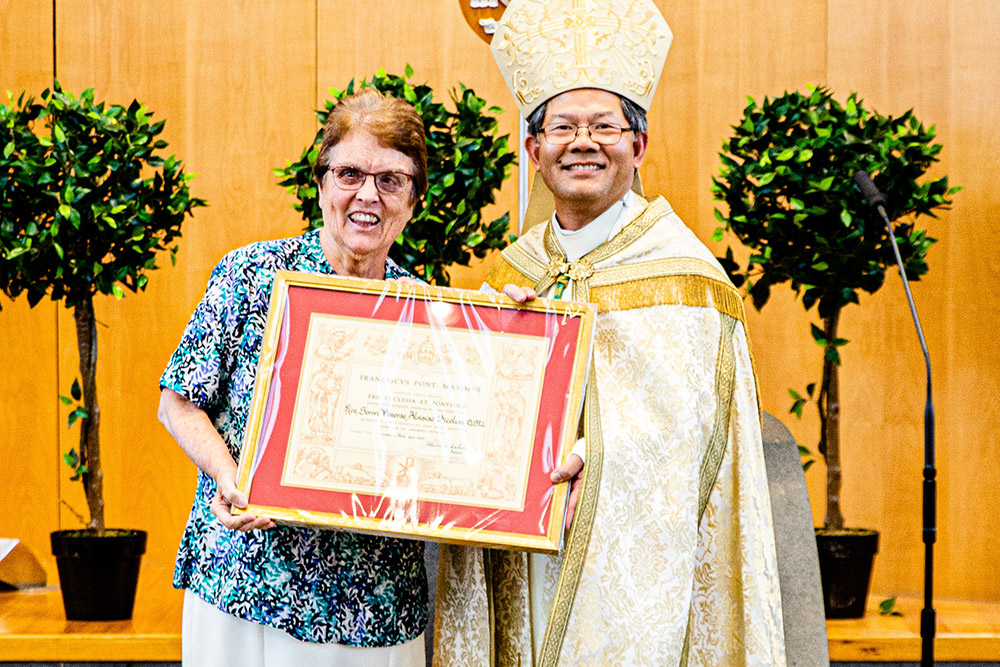 Sr Venera Nicolosi OSU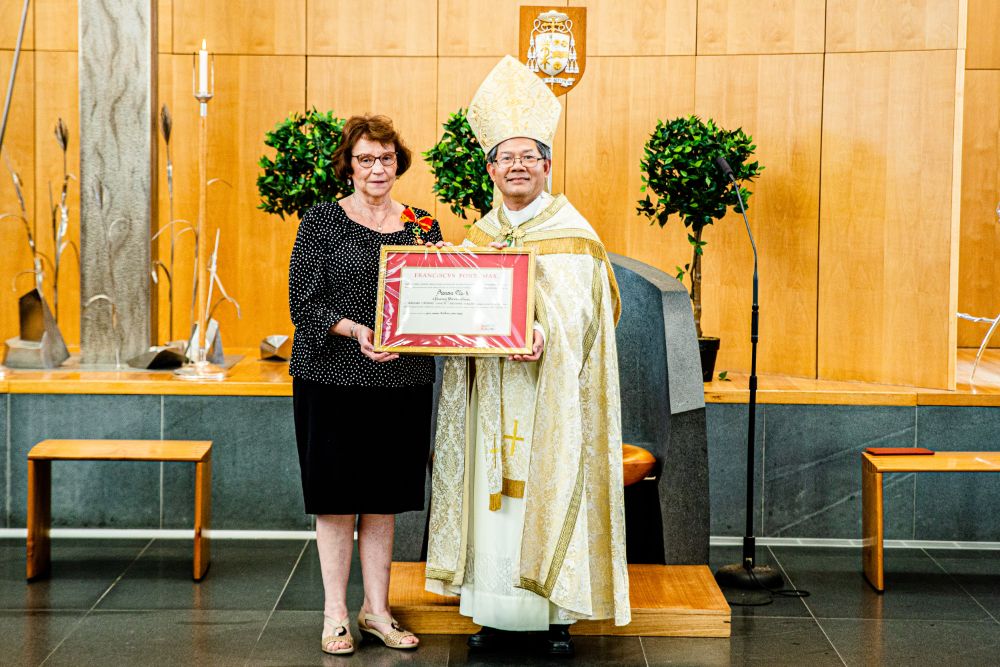 Anne Clark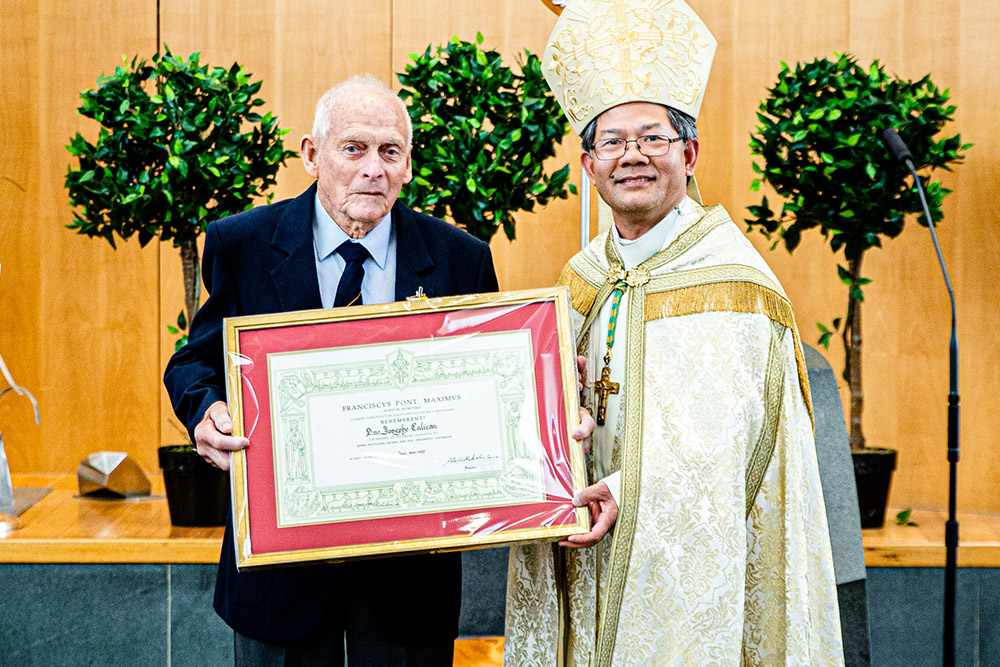 Joseph Culican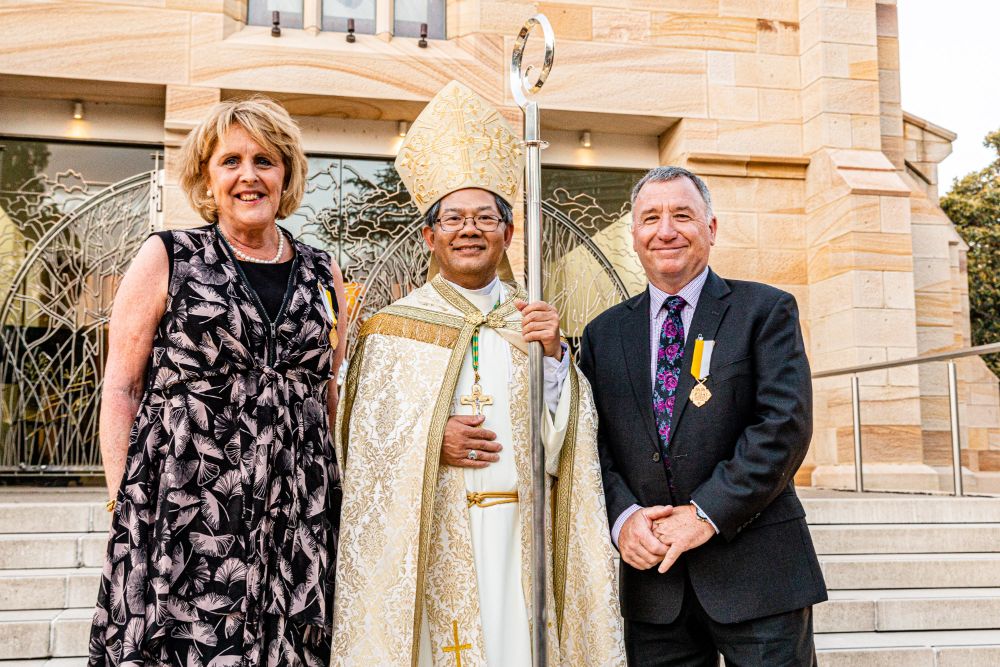 Left: Patricia Carr Right: Kevin Mills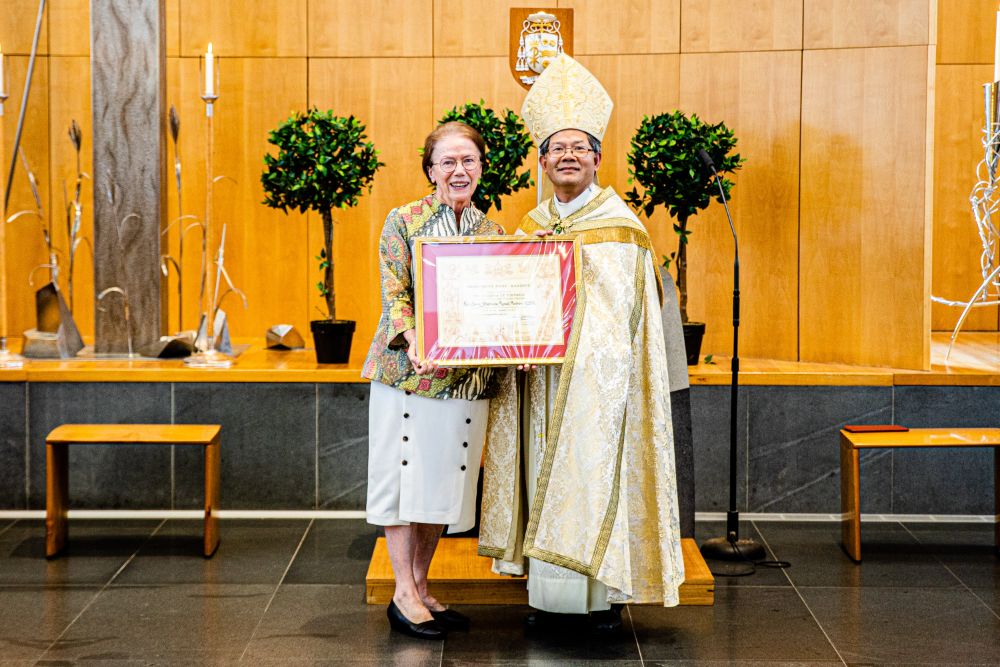 Sr Patty Andrew OSU
A full list of CEDP Pontifical Honours recipients is below:
Receiving the Medal, Benemerenti:
David Russell: Artistic Director Captivate
Karen King: Leader of Learning Creative Arts Caroline Chisholm College
Joseph Culican: Auxiliary staff member St Margaret Mary's Primary
Receiving the cross pro ecclesia et pontifice:
Sr Venera Nicolosi OSU: CEDP Mission team
Sr Patty Andrew OSU: CEDP Mission team
Mark Hopkins: Head Captivate
Patricia Carr: Principal Good Shepherd Primary
Kevin Mills: Principal St Margaret Mary's Primary
Receiving the Dame in the Order of St Gregory the Great:
Anne Clark: Business Manager St Luke's Catholic College
Former CEDP members receiving honours:
Dr Anne Benjamin: Former CEDP Executive Director (Dame in the Order of St Gregory the Great)
Sue Walsh: Former CEDP Director Learning and Deputy Executive Director (Dame in the Order of St Gregory the Great)
Dr Hilary Johnston-Croke: Former Principal Catherine McAuley (Dame in the Order of St Gregory the Great)
Dr John DeCourcy: Former CEDP Director Strategic Accountabilities (Knight in the Order of St Gregory the Great)