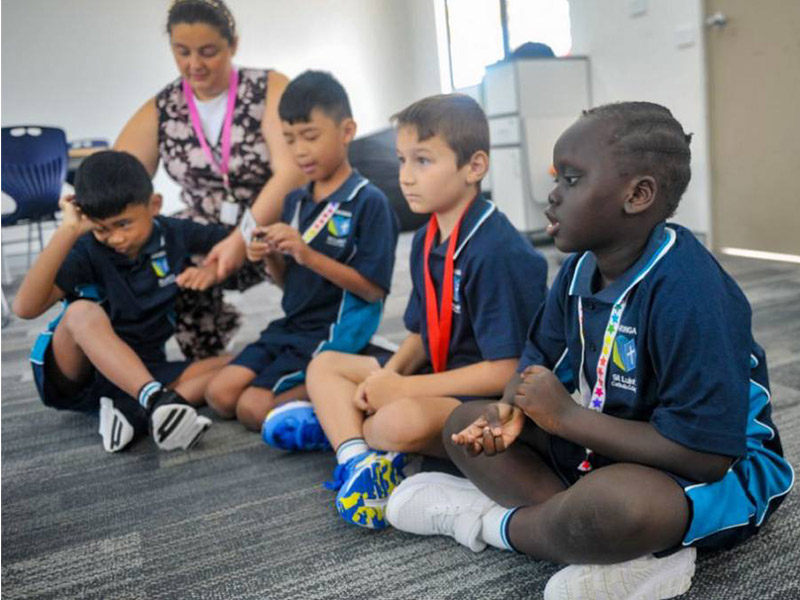 Pupils at the brand new Arrunga high support learning setting at St Luke's Catholic College Marsden Park on the first day of school this year. Picture: Supplied
Pupils are settling into the school year at St Luke's Catholic College's Arrunga learning site at Marsden Park. This is a brand new high support learning setting that welcomes students with a diagnosis of moderate intellectual disability as a primary disability and low adaptive functioning.
Catherine Goodwill, Leading Teacher at St Luke's Arrunga, said the school taught the same K-6 curriculum as other primary schools, but adapted the delivery to suit the individual needs of its pupils.
"The content and outcome is the same, but it's the way we deliver it with different access points," Ms Goodwill told the Gazette.
"It's different models of accessing the curriculum that tailor to their [the child's] disability and functioning skills. For example, for non-verbal we have assistant technology and devices - so they could express how they feel on the iPad and join in that way."
So far, the pupils have been getting hands-on in science, learning about plant structures, what animals need to grow, and planting vegetable gardens, labelling them and talking about what they see.
Marsden Park resident Raymond Pamplona, whose five-year-old daughter Aiysha attends the school, told the Gazette that he and his wife were "really grateful" to have Arrunga in their area.
"It's more than a breakthrough in the life of my daughter to have the school nearby," Mr Pamplona said.
"The people who are looking after the kids at Arrunga, they are living angels. The experience is phenomenal."
Since opening only a few weeks ago, Arrunga has been serving a small number of students from Kindergarten to Year 6, however the service will grow over time to meet the needs of secondary students also.
Ms Goodwill said enrolment wasn't based on catchment area, but rather on a criteria of 'need', including the adaptive functioning ability of the child and their intellectual disability.
"Quite a few of our students come from outside of the Marsden Park area, and they are provided with assistant transport to and from school," she said.
She said pupils had excelled at the school so far, moving through the planned introductions based around social skills, sharing, collaboration, cooperation and communication, quicker than the teachers anticipated.
"It comes down to that tailored learning, and the inclusive environment, whereas they would get lost in that big mainstream setting," Ms Goodwill said.
Arrunga pupils join in with St Luke's mainstream pupils at recess and lunch, and for school events.
---
Learn more about Arrunga High Support Learning Centre
Find out more about High Support Learning in the diocese of Parramatta