St Luke's is an exciting and thriving preschool to post school learning community which is designing a new normal for learners aged 3 to 18 years of age.
In a place where "Learning = Infinite Possibilities", staff and parents work as partners to nurture faith filled curious children to become creative contributors and innovative problem solvers for a changing world.
Underpinned by Catholic faith, our Long Day Care Early Learning Centre commences a 15 year learning journey for 3 year olds where we value play because it is through play that children learn. These students spend time transitioning to kindergarten, so at the age of 5, children take one small step next door to the School of Foundations. In the School of Foundations, teachers ensure the foundations of reading, writing and mathematics are a part of their learning each and every day, while we ensure that we build problem solving and social skills through the continuation of inquiry through play.
When students enter the School of Leadership, we introduce the concept of SIM, with the introduction of programs such as Become Me, and introduce Life Coaches and mentors who work with students to unpack what makes them unique - their strengths, interests and motivations as part of fulfilling their purpose. Students moving from the School of Leadership present their purpose to a panel of industry professionals, and this understanding of self guides them to explore their purpose further through the School of Entrepreneurs.
Within the School of Entrepreneurs, students are given the opportunity to engage in courses and credentials beyond just the Higher School Certificate. While high expectations of student learning are at the core of what we do in the School of Entrepreneurs, students are encouraged to take hold of opportunities aligned with their post school life and engage in credentials in addition to the HSC. For example, students have the opportunity to accrue industry level microcredentials and a Diploma whilst studying the HSC.
Aligned and interconnected sits Arrunga - a Durug word meaning "in harmony" - a purpose built learning community which promotes a personalised approach to the needs of students with a moderate intellectual disability and low adaptive functioning require.
We also prioritise the opportunity for students to development their capabilities required for a changing world; they being their ability to:
Witness in the way of Christ

Manage themselves

Relate with others

Inquire thoroughly

Think critically

Create solutions to help the less fortunate.
This has been a priority of St Luke's since its inception in 2017, and students and parents are provided with a dashboard of student data to track their childs development of this, and their learning. Throughout the learning journey the staff of St Luke's increasingly provide students with choice and autonomy to make decisions about their learning in order to prepare them for post-school life.
Although still young in our development as a Catholic Learning Community we work as a team - Early Learning, Primary, Secondary, Arrunga, Ambrose Activities and our Faith Community to ensure that students leave St Luke's as confident, resilient young people with an understanding of their purpose and aware of their impact on society and others and the tools and capabilities to make a difference.
Kelly Bauer
Principal Leader
---
Kelly Bauer - Principal 2022 - Current
Kelly has been a key part of the St Luke's Catholic College story from its beginning in 2017. With a passion for learning, innovation and collaborative, creative leadership, Kelly has helped to develop new ways of learning and teaching at St Luke's. Drawing on her experience as a teacher, leader, writer and university lecturer, Kelly has challenged conventional thinking about how to deliver effective learning. As a member of the Executive team at St Luke's, Kelly has developed new ways of delivering professional learning for staff. She is a caring and reflective leader whose priority is always the learning and wellbeing of the students.

Prior to her current role at St Luke's, Kelly held a number of significant positions at Parramatta Marist High School. These included Teaching and Learning Co-ordinator, Year Co-ordinator and Head of the Technology. Kelly has also worked at a school in the Archdiocese of Sydney, and has lectured at the Australian Catholic University and University of New South Wales. Kelly has a Bachelor of Teaching/Bachelor of Arts (Secondary Education: Technology/Visual Arts) from Australian Catholic University, a Masters in Design from the University of Technology Sydney and a Diploma in Gifted Education from the University of NSW.
---
Greg Miller Foundation Principal 2016-2022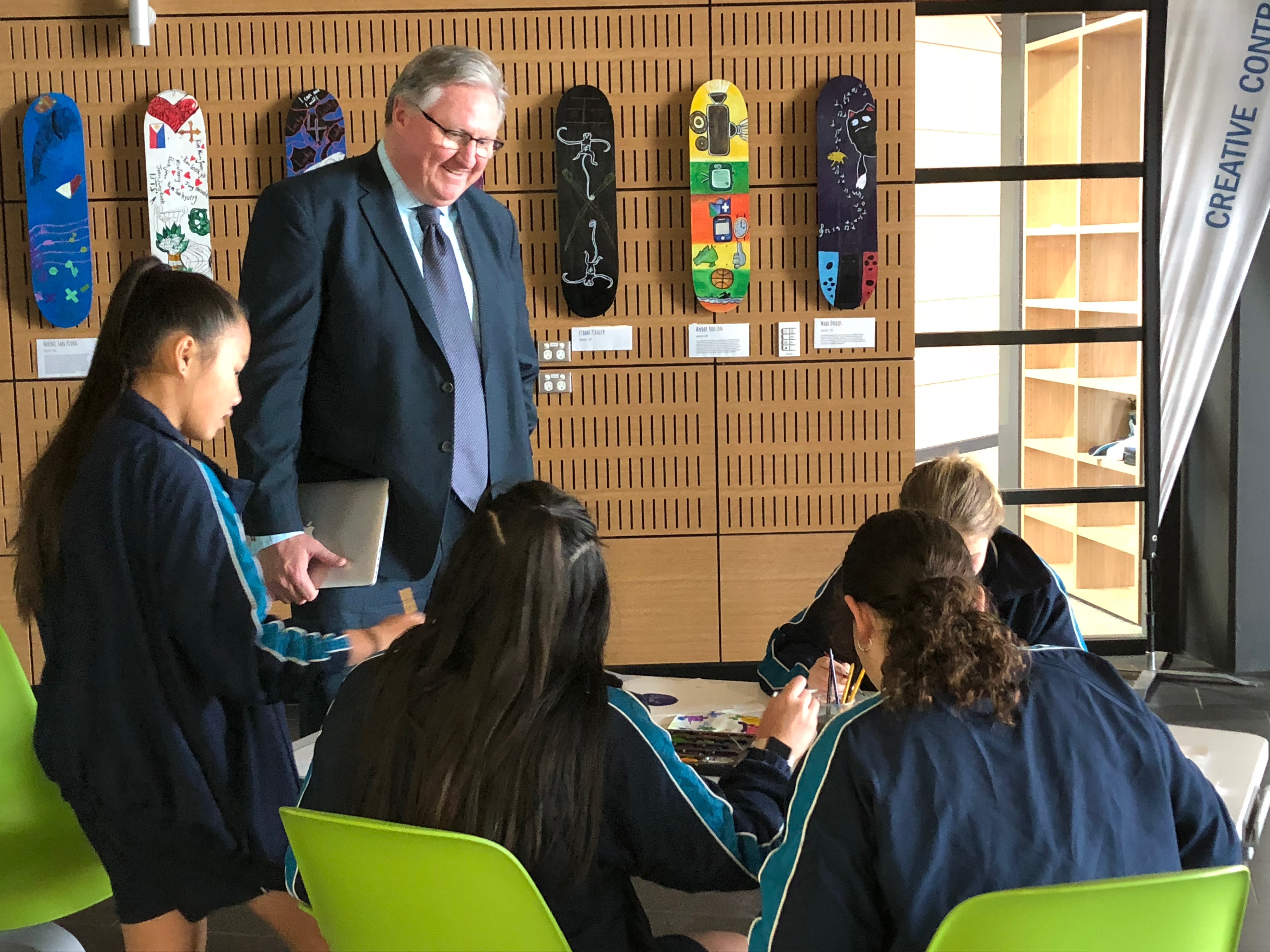 In June 2016, Greg was appointed as the foundation Principal Leader at St Luke's Catholic College before the College opened in February 2017. With a commitment to establish a 'new normal' for preschool to post school learning, Greg ensures the College balances the foundations of great learning with the need to strategically plan for learning in a changing world.
Previous to his appointment to St Luke's, Greg was a Schools Consultant in the Diocese of Broken Bay, providing effective modelling, coaching and professional support for secondary principals, school leadership teams and school communities to strengthen their leadership of Catholic School Improvement in the local context. Other leadership roles include Principal of Mater Dei Catholic College, Wagga Wagga, Assistant Principal at Trinity Catholic College, Lismore, and Year 9 Boarding Coordinator at St Joseph's College, Hunters Hill and a teacher at a number of Catholic schools.
Greg commenced teaching in 1989 and attained a Master of Catholic Educational Leadership from the University of South Australia (2007) and a Master of Education - Knowledge Networks and Digital Innovation at Charles Sturt University (2015). Greg also has an active commitment to connecting via online networks, often applying this knowledge to the work he does at St Luke's.