More attention for St Lukes
16 Jul 2018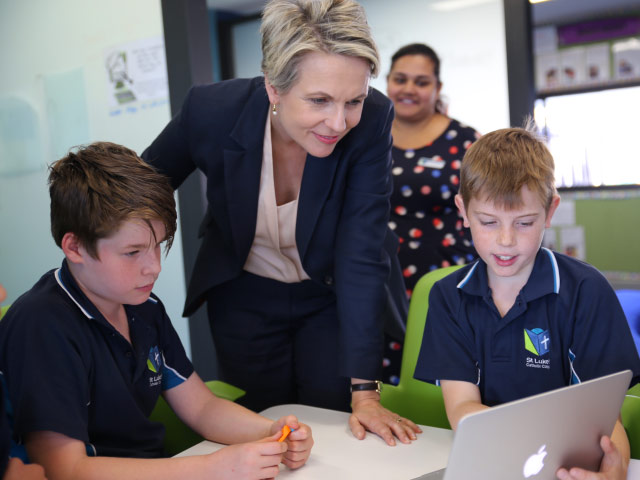 Deputy Federal Labor Leader Tanya Plibersek
Deputy Federal Labor Leader Tanya Plibersek came out to St Luke's Catholic College, Marsden Park this week to witness first hand the transformational education taking place at this much-publicised school.
The Opposition Education spokesperson visited a few of the learning spaces where students have been designing, building and coding a prototype to improve airport operations. The kindergarten children also shared the favourite things they liked to learn.
Ms Plibersek met with a number of our principals and some of our academic partners including Stephen Dinham, Stephen Heppel and Yong Zhao to talk about how we are transforming learning.
St Luke's has captured the imagination of the community and education authorities featuring in the Daily Telegraph and Channel 10 news because it is reinventing the idea of what a contemporary Australian school can be.
It will eventually cater for 2000 students in a holistic preschool to Year 12 education program that is already operating from 6am to 6pm.
Catholic Education Diocese Parramatta Executive Director Greg Whitby said the school model hasn't changed significantly in 50 years and St Luke's is making that change right now.
"St Luke's is attracting the attention of senior politicians because it has become a lighthouse for schools right across Australia," he said.
"The centre of the school will be the 'Marketplace' where local business people will come and work with students and share their business ideas.
"There will also be an innovation hub, with a focus on teaching 21st-century entrepreneurial skills. Students will be encouraged to discover their true passions at an early age.
"The school will educate students today for careers that haven't been invented yet."
Foundation Principal Greg Miller said St Luke's extended operating hours, from 6am to 6pm, are a huge benefit for working families with younger children.
"With so many Australian families, both parents have to work and the 8.30am to 3.30pm model does not serve them best," he said.
"Our before-and-after school 'Activities Club' will provide students with a learning focus as part of an extended school day."