Case Study From Greenfields site to Flourishing College Greg Miller
16 Jul 2018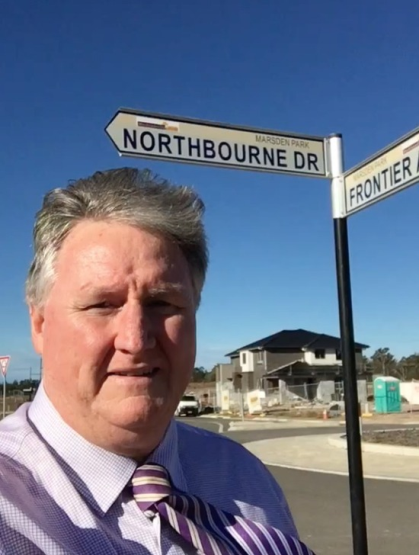 In 2016, Greg Miller [above] was appointed to oversee the building and development of a new Catholic College - St Luke's Marsden Park.
6 months on
Historically, the word "frontier" has connections with the United States. The word frontier was known as the area where settled land met with the wilderness which lay beyond. As a greenfield site, it is more than apt that St Luke's street address is Frontier Avenue. Over the last 12 months, the unsettled land has given way to the emergence of new buildings. But the real story has been about the people and our humble beginnings.
On February 2, 2017, St Luke's Catholic College, Marsden Park opened its doors for learning. A few days before, staff hosted parents for a 'meet and greet' before taking them of the classrooms which resembled a scene from 'The Block'. We look back on those first days and remember there was no yard, no car park and our magnificent COLA was was not completed until the end of term 1. Play breaks were a balance of indoor activities with some students accessing a makeshift 15m x 15m play space. The staff were wonderfully adaptable, our parents tremendously supportive and the students very patient as we moved quickly to provide more outdoor space by the end of term 1.
Of course, we had to get to 'know our class'. St Luke's began with 86 students. There were 25 Kindergarten students with the remaining 61 Stage 1, 2 and 3 students, arriving from 31 different schools. Each student brought with them their own story, and teachers worked tirelessly to adapt their expertise in balancing each child's abilities with a brand new educational context. Six months on we have 108 students and, looking ahead to 2018 we have 322 committed enrolments from Kindergarten to Year 7, 89 of those are Kindergarten enrolments. This is a credit to the great work of our staff and the wonderful 'word of mouth' expressed by both students and parents.
As a new school, St Luke's has been both empowered and challenged to reimagine education from the system leaders of Catholic Education, Diocese of Parramatta. As such, St Luke's is designing and establishing the new normal for preschool to post school learning across the five educational services of early learning, primary, secondary, out of hours school care and a high needs studio. We are unsure if there is another Catholic systemic school in Australia pursuing this bold vision.
From Day 1 the school has been staffed from 6am to 6pm, Monday to Friday. There is no 'bolt on' out of hours schools care. There is an Activities Club which provides learning focused activities either side of the core hours of the school day.
Other innovations include:
Bringing Social Skills and Enterprise skills to prominence through our 6 Pillars of Learning. This resulted in a more informative school report and meaningful Student-led Conferences at the end of Semester 1.
No merit awards or stickers for students, just positive affirmation as part of our Positive Behaviour Support for Learning (PBS4L) approach to learning and wellbeing.
Each teacher blogging twice a term to share their work via social media channels. This confirms our collective commitment to act as connected and networked educators.
Increased use of Social Media, in particular Twitter and Facebook to connect and communicate with our parent community. In fact, Facebook Live was used to record the visits of Tanya Plibersek and Luke Foley. Also, on two occasions, the principal connected with parents for two parent engagement event held of an evening.
The use of Seesaw to provide formative, real time feedback to parents. Over time, students will have a digital folio of work which showcases their very best social skills and enterprise skills.
A cashless school with provision of an offsite canteen with online ordering.
Sports uniform worn each and every day quite comfortable for all students and realistic considering the amount of movement that takes place in our our agile open learning spaces.
And much much more...
All this was taking place adjacent to our new building program. For the beginning of 2018 new buildings with outstanding new learning spaces will be ready to accommodate our K-6 enrolments, our new year 7 cohort and the Long Day Care centre.
In preparing for 2018, and thanks to system support, we will have two weeks of orientation for new staff. This will take place in Term 4 and will assist in the 'next steps' of establishing the new normal for preschool to post school learning where we will be committed to extending the frontiers of knowledge by deepening our understanding of preschool to post school learning for a changing world.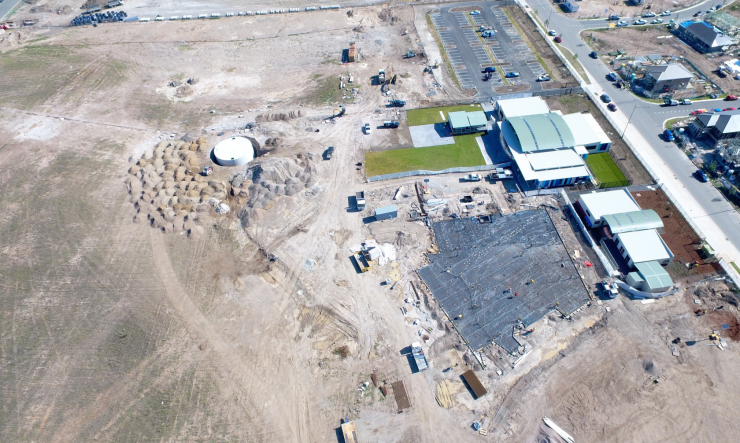 An overview of the site from a done Perspective March, 2017.


Looking towards Frontier Avenue from the rear of the site. From the left to right COLA, The Hub (3stories high), Staff Room and Early Learning Centre 11 July, 2017.
Of course, the physical emergence of the site is an interesting story. However, the real story is the learning narrative which has unfolded before our eyes in real time on both Twitter and Facebook. I invite you to spend 10 minutes to review our learning story unfold and it has been a privilege to be a part of it.
Here is Greg's Blog where you can follow the growth of this exciting project.